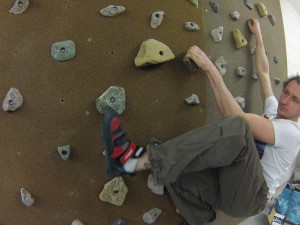 Realholds.com is based in the heart of the Derbyshire Peak District and was created by myself, Jonathan Walker. Born and bred in the Peaks you'd probably expect me to be a dedicated climber from birth. I love sport and I'm into just about everything that gets my heart pounding, kitesurfing, wakeboarding, snowboarding, skiing, surfing, motocross, DH, and more, Yet I didn't try climbing till very recently. I don't know why, in fact most of my close friends are extremely passionate about climbing and have been since they were teenagers. Looking back, it seems such an obvious sport I should of been doing. I guess its like going to the French Alps and trying to understand some of the locals who have never tried skiing before. When its on your doorstep you sometimes overlook it.
So when I was introduced to climbing properly a couple of years ago, I started off on a local indoor bouldering wall. I got more and more into the climbing scene and my outlook on buildings and natural structures started to change  a lot, I'm sure most of you will understand this feeling. All of a sudden, a 2nd floor window cill doesn't appear as a stone to hold the window frame square and elevate water from the house, but its actually perfectly positioned to pinch with the right hand while having the left arm stretched out to the edge of the fascia which should give enough grip to get the right leg onto the cill. From this we can reach the roof line. You get the gist of it, pretty quickly I was hooked!
The idea of using real stone for climbing holds didn't hit me initially. I work "hands on" with stone virtually everyday of my life, creating sculptures, water features, tables, pebbles, rockeries. From this I have learned that there's not a great deal you can't do with stone, most things are possible although many not done because they are not practical or financially viable. So when I saw guys training on wooden and plastic holds for a huge free climb with plywood setup to imitate the cracks they would be climbing, I started thinking about whether it would be practical to make climbing holds from same rock they were practicing for, making their training route even more life like. How practical it would be? in fact I could probably sculpt the whole damn face in new rock were I given enough time, probably a bit heavy to move around though!
From that initial thought its taken nearly two years to develop the concept, to perfect the machining techniques and to work out a testing regime to ensure the safety of the holds. The first stage of Realholds is now ready. Our basic holds are up for sale and we are finally proving the idea I had nearly two years ago.
Hopefully this is only the beginning of our journey with Realholds. With more ideas in the pipeline we are all excited about the changes we can potentially bring to indoor climbing.